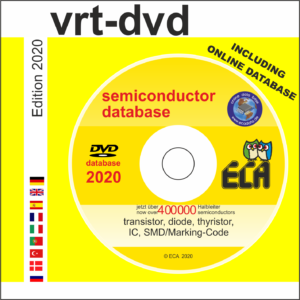 vrt-dvd 2021
Database and index for all kind of semiconductor.
more than 109.000 diodes
more than 89.000 FETs
more than 143.000 transistors
more than 18.000 thyristors
more than 163.000 integrated circuits.
Available in ECA online shop at www.shop.eca.de.
In addition to search for type, numeric part of the type, the device, the SMD CODE or the text you can search and select for parametric in the discrete semiconductors database . New park function allows to save each type in a special table with your comments.
All registered users of the software will have additional access for 1 year to the vrt (integrated circuits), tdv (transistor, FET) and ddv (diode, thyristor) online data base at www.ecadata.de.
You can havet the new dvd, but the download version (about 3 GB) is also available.
Order dvd or download version at http://www.shop.eca.de
Download direct order

Direct order download version for 59,00 Euro payment with PayPal.
DVD direct order avialable at beginning of march 2021

Direct order dvd version now for 69,00 Euro plus 7 Euro shipping (worldwide) and pay with PayPal?
System requirements: Windows® System 10 and a DVD drive assembly.
Multilingual: german, english, french, spanish, portuguese, italian, turkish, russian, danish
ISBN-13: 978-3-937469-50-8
Order No.: 403-21
Price Full version:
DVD Version: 69,00 Euro
Download Version: 59,00 Euro
Price Update Version: (You need a serial number of a previous version)
DVD Update version: 49,90 Euro
Download Version: 39,90 Euro
incl. 19% Vat (only for customers in the EU)
*The download version includes the serial number and a unlock code. You can install the program on max. 3 different computer. During the installation a internet connection is necessary, you use the program afterwards also without permanent internet connection.